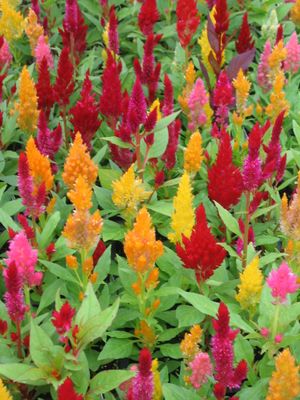 Yaay! I went jogging again today! I'm a joggin' fool! Yesterday we drove my route and it is 2 miles exactly in the car (plus some change on foot). Woo hoo! 2 miles!! (not 1 block lol *happy dance*). As soon as I stepped foot into my driveway,
I did a little gardening, since I was there, and since it's not 100F+ yet (it's supposed to get hot today). I jogged/walked for 35 minutes and played in dirt for 25 minutes. I planted some bright pink vincas and yellow, pink and red celosias (just like the picture!) :). So purty!

Yesterday I started out slowly as a few of you suggested to prevent injuries, and today I tried to work a little harder. I don't want to push myself too hard (which is easy to do for me), because I don't want to keep myself from being able to exercise another day (as you guys also suggested). My heartrate monitor is inaccurate and totally douchy, I can't rely on that, so I went by my time. I know my distance is constant. Yesterday I did 2 miles in 45 minutes, jogging and walking. I could only jog for 30 seconds (on average) at a time. Today I was able to jog for 1-2 minutes at a time and took 10 minutes off of my total time! Yaay!

I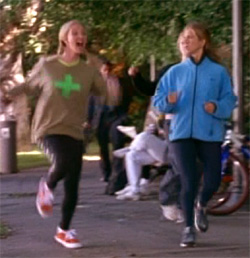 really have to focus on my stride, and making sure that my body weight is balanced and centered, so that I don't hurt my knees and ankles (or look like Pheobe from Friends running lol). A long time ago when I first started running, my running partner told me to make sure to place my feet directly underneath me when I run, to prevent injury and so I did that too (it used to help me back in the day). When I wasn't focusing on these things, I felt wobbly (like Pheobe) and felt like my left ankle and knee hurt a little. I tried to focus on my leg muscles pushing also. *shrugs*

Fun story...when I was gardening, my hubby kept messing with the hose (men need to feel like they are useful outside--well mine does...j/k *wink*) and he broke the nozzle on the hose and BLASTED me with water lol (accidentally). It was quite funny but he was annoyed that his new nozzle broke (his fault for messing with it! lol). It felt good, I was hot :).

Hope you all have a great day! I am going to a 3 year old's birthday party! We bought him a bath blizzard, because he likes a few bubbles in his bath. Make today count!

I can do this. I am a star.